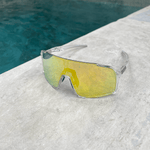 Description
Upgrade your summer look with these killer shades. Whether its a lke day, on the golf course or just driving around, these shades will turn heads left and right.

Specifications
- Polarized
- For Bros & Lady Bros
- Comes with: Hard Case, replacement lense, cleaning cloth and soft case.
- Designed in the USA
The Flo Shades
Shades made for the Bros, or even the Lady Bros
Take your old shades and kick them to the curb. Our flo shades will easily be your new favorite wear this summer. Simply chuck them on in the car, lake or your next bender with the boys and everyone will be jealous of the new shades you're rockin.
365 Days Return
Don't love them? Ship them back for a full refund. Shades must be in orignal condition. If you scratch them being a degenerate, thats on you.