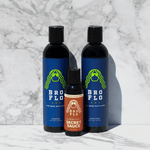 THE DIRTY DEETS...
DETAILS

Poo for the Doo is the first mens shampoo made for bros, by bros. We use only the best ingredients specifically to bring out the full lusciousness of those locks. 

Our shampoo is the perfect wingman for any and every occasion, making you look badass, and feel cool as all hell, say hello to your new secret weapon. The cool peppermint not only feels cool as hell when lathering it in, but will keep your hair strong & healthy AF. 

The Secret Sauce is the ultimate mane softener. Apply a dab after you shower and your flow will be more silky smooth than its ever been.

MADE IN THE USA

Here at Bro Flo we don't believe in cheap overseas production. We want our products to be the best grade A-merican hair care real dudes can get their hands on, so to give that to you we've partnered with a Michigan local manufacturer to produce the only shampoo you'll ever need, created and manufactured right here in the good old U-S-of-A.

HOW TO USE

Poo & Condish
All you've got to do is simply lather a little bit into your hair, rinse thoroughly, and job done!

Secret Sauce

Apply a dime/nickel sized dab on your hand when your hair is damp and run through the bottom half of your hair.
WHAT IS IT...
DESIGNED BY BROS WITH FLO, FOR BROS WITH FLO
Our moisturizing shampoo hydrates, nourishes, and cleans hair throughout with every use. Our shampoo is vegan (if thats your sort of thing) and contains only the absolute BEST ingredients. Not to mention, our shampoo has a fresh scent which will keep your locks smelling good AF all day. 

The secret sauce is a killer formula that makes your hair soft af.
EVERYTHING YOU NEED
ABOUT THE SHAMPOO...
Our team  of bros with flo hava formulated the absolute best shampoo & conditioner possible.
Do I Need This?

Sure, you can keep using your girlfriends Pantene and smell like a lady. Or, you can switch to BroFlo and use shampoo designed by dudes, specifically for dudes. 

What Are Some Benefits?

Simply put, we use the best ingredients to hydrate your hair, strengthen it and bring out your flos natural shine. Add the conditoner, and your hair will be the strongest & softest its ever been. 

What's Inside?

Shampoo


Water, Sodium Lauryl Sulfoacetate, Disodium Laureth Sulfosuccinate, Cocamidopropyl Betaine, Sodium Cocoyl Isethionate, Phenoxyethanol, Glycol Distearate, Polyquaternium-7, Sodium Hydroxymethylglycinate, Potassium Sorbate, Avocado (Persea Gratissima) Oil, Dimethicone, Hydrolyzed Soy

Secret Sauce

Minty Citrus AF 

C13-15 Alkane, Isododecane, Caprylyl Methicone, Dimethiconol, Dimethicone, Cyclopentasiloxane, Argania Spinosa Kernel Oil, Phytantriol, AMP-Isostearoyl Wheat/Corn/Soy Amino Acids, Citrus Sinensis Peel Oil Expressed, Mentha Piperita Leaf Oil, Tocopheryl Acetate

Lumberjacks Dad

C13-15 Alkane, Isododecane, Caprylyl Methicone, Dimethiconol, Dimethicone, Cyclopentasiloxane, Argania Spinosa Kernel Oil, Phytantriol, Fragrance, AMP-Isostearoyl Wheat/Corn/Soy Amino Acids, Tocopheryl Acetate
ALL NATURAL...
YOU'VE SPENT YEARS GROWING YOUR FLO, TAKE CARE OF IT.
To truly maximize the look and feel of your locks, you need to use the best products. Every person at BroFlo uses the shampoo & conditioner so you know this stuff is the best. 
ESSENTIAL INGREDIENTS
ALL DAY FRESH SCENT
Chamomile soothes inflammation and detoxes, which is excellent for the hair follicle and regrowth. Chamomile can relieve an itchy scalp, dermatitis, psoriasis and other skin conditions.
PARABEN FREE
Stimulates the scalp and hair follicles for hair growth and hair loss minimization.
SMELLS GOOD AF

Hydrolyzed Wheat Protein increases the thickness of each hair strand & strengthens the underlying hair structure.
NO BULL SH*T SULFATES
Relieves scalp irritation and destroy skin flakes and can even help with hair loss
FREQUENTLY ASKED QUESTIONS FROM THE BROS